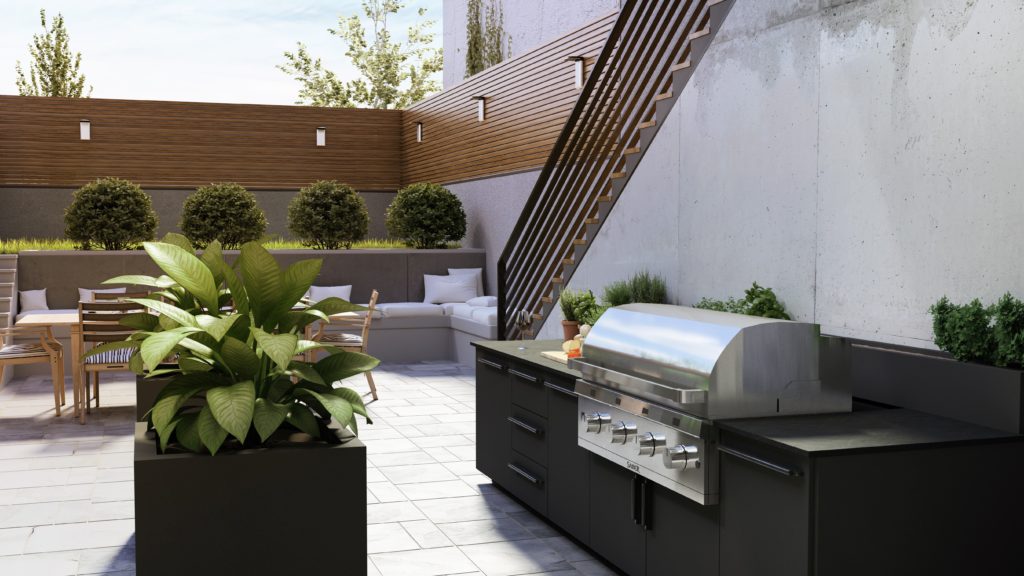 Having a home that enables outdooring is becoming increasingly important for Canadians. Today, backyard kitchens fit right into this phenomenon, and are growing in popularity among all types of home-owners.
Here, Ryan Bloom, co-owner of Urban Bonfire, which partners with Groupe Paramount on many outdoor projects, explores some of the latest trends in outdoor kitchens, and how they've come to be a staple in backyards across Montreal and surrounding areas.
How do outdoor kitchens fit into a home's overall backyard-scape?
Outdoor kitchens have become a more sophisticated manner of recreating a nostalgic feeling of quality time spent outdoors with family and friends. In most cases the driving force behind specific niche purchases like an outdoor kitchen is the desire for a beautiful, functional and cohesive outdoor room. We've found that home-owners who are willing to make the time and financial investment on a perfectly manicured outdoor space (large or small) want the final touch of an outdoor cooking area to entertain. Clients who are looking to tie together their outdoor space with an area dedicated to cooking are most likely people who love to entertain, and therefore want to be present throughout the entire party – not constantly running from their indoor kitchen to their backyards, missing half the fun.
Who is purchasing outdoor kitchens?
While we're consistently designing and installing a large number of high-end projects, we're definitely seeing a steady rise in demand for what we call micro-kitchens. We developed an outdoor kitchen system that can truly suit many budget levels provided the client is prepared to invest in a quality, locally manufactured system that will last for 20+ years. For example, we recently partnered with SABER, an upscale grill brand to co-create a line of moderately priced, beautiful and high performance outdoor kitchens in a variety of shapes, sizes and price points.
The shift has happened due largely to baby boomers who are downsizing and moving into condo developments with balconies and terraces. We saw a need because this group of homeowners still wanted the amenities a larger home can provide, but in a smaller footprint. So we developed a product that can be customized to almost any sized space without sacrificing design, quality, expectation or user experience.
What are the current trends in outdoor kitchen design?
Today's outdoor kitchens can offer clients and their design partners a vast selection of layouts, colours, fixtures, upgrades and equipment options that allow for true and uncompromised outdoor space design. Clients are also seeking quality products that are designed, manufactured and tested in our climate and for our climate.  Our entire line is manufactured here in Quebec and is built to handle our demanding weather.
Overall, the reigning trend in outdoor kitchens is the focus on functionality. An outdoor kitchen is only as good as its design and usability. Take the idea behind our modular cabinetry system for example; the whole point is to eliminate the need to use your indoor kitchen when cooking and entertaining outside. The same is true for our pull-out garbage cans, spice cabinets, adjustable shelving, retractable hose, and more. No more running into the house for plates and glasses, just open your outdoor cabinets to find everything neatly stored at arm's reach.
Running parallel to the outdooring movement is another trend that promotes the global initiative of self-sustainability. We've dubbed this trend as urban gardening. We've seen a number of our condo and townhouse clients installing micro gardens to grow everything from simple herbs to elaborate vegetable patches. With design and aesthetics running through everything we make, we wanted to give our clients the home gardens of their dreams to perfectly match their outdoor kitchens. With that, we launched our line of custom planter boxes.
Are outdoor kitchens really worth it considering how short the summer season is in Quebec?
We hear this question all the time and while we certainly agree with the fact that our summers are short, we're absolutely ready to help change the idea that outdoor cooking is only for the warmest months of the year. First off, with tons of new options like covered roofs, pergolas, fire pits and infrared heaters, the season for outdooring is getting longer all the time.
All of the equipment and materials we carry and use have been tested and proven to withstand and perform excellently in colder temperatures. We never set out to be considered a "seasonal product", so we curated the best of the best materials and grill equipment to match our extreme climates. With countertop materials like the popular Dekton, our outdoor kitchens can withstand both extreme heat and extreme cold. Our custom cabinetry is made of marine grade aluminium and has a full interior and exterior protective powder coating included in pricing, which means that rust is a thing of the past. Our grills, pizza ovens, smokers and side burners are known to be the most powerful available on the residential market.  Even new outdoor ice makers, wine coolers and refrigerators are built to be left outdoors 12 months a year. So in short, the length of our summers is no match for contemporary outdoor kitchens.
What's the minimum budget range you should be prepared for when considering an outdoor kitchen in your home?
The three factors that will affect pricing on an outdoor kitchen will be size, selected grill equipment, and upgrades to things like countertop material, interior drawers, and so on. We have produced kitchens for under $10,000 on the low end and for over $150,000 on the high end, but an average kitchen (equipment, cabinetry, countertop, installation) typically runs in the $15,000 to $17,000 range.
Why is the investment so valuable?
Outdoor kitchens becomes part of clients' families. In our fast paced world and go-go-go mentalities, this common space helps facilitate quality time spent with loved ones, helps people connect with friends, family, the outdoors, and of course, delicious food.