Mother nature may have just graced us with a huge helping of winter weather, but spring IS just around the corner – we promise! With renewed enthusiasm for the outdoors, Montreal's homeowners are embracing thoughtful design, stylish plantings and smart technology to enhance their landscapes as extensions of their homes. As you start planning your landscaping projects for the warmer days ahead, take a peek at some of the top trends in landscape design for 2017 and get inspired!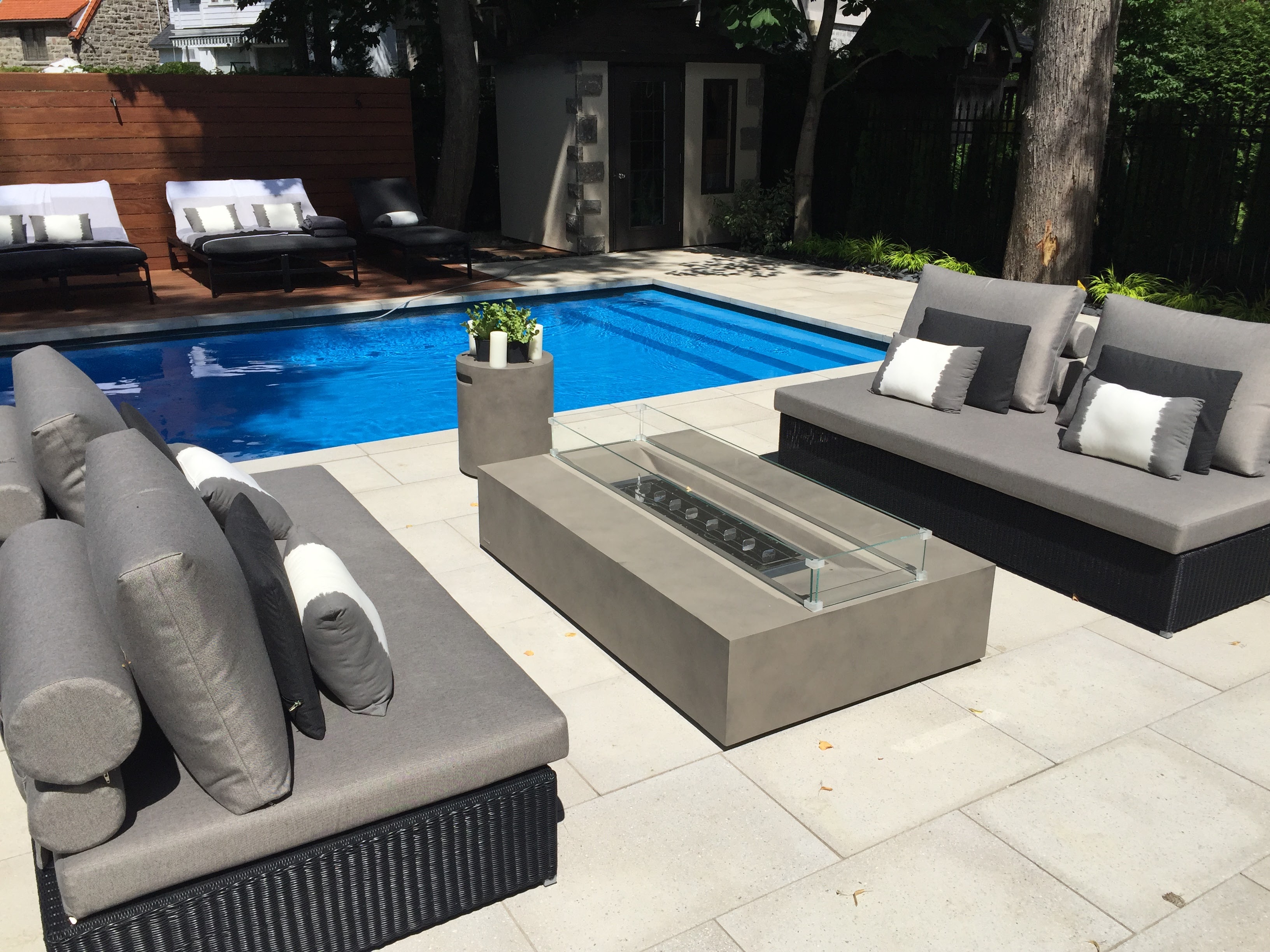 Bringing Hygge Outside
Homeowners have become more interested in holistic landscapes that promote well-being. The Danish concept of coziness (Hygge) has recently become very popular in interior design and this year, you'll be seeing more and more of it incorporated into backyard landscape designs. Spaces accentuated with outdoor fireplaces, quaint patios, and cozy gathering places are all going to be sought-after this year pictured above.
Design it Green!
"Greenery" was selected by Pantone, a leading provider of color systems, as its Color of the Year for 2017. Instead of going the conventional route of colourful flowers, using different textures and shades of greenery, such as a formal hedge of green velvet boxwood, a border of green lilyturf and dense ivy-covered trellises, can create quite the impact.

Mixing of Materials
More landscapes in 2017 will feature an integration of several forms of materials. From pebble paths leading to paving stone patios, to wooden decks adorned with iron gates, stylish pairings of different hardscapes can create an elegant approach to landscaping. Some of the most popular exotic woods are Ipe, Teak and Red Cedar. Take a look at this Ipe designed pool area (pictured above)! This is a wood that can be oiled for a rich array of brown shades or it can be left to grey out, which requires almost no maintenance and has a more organic aesthetic/texture.

Full Outdoor kitchens
Hosting a summer party is so much easier when you simply bring the kitchen outside! It can be be cumbersome to carry food from the house to the patio, especially when entertaining a larger group of guests. For this reason, more homeowners are loving the latest high-tech outdoor kitchens and the conveniences they provide. Grills, ovens, sinks, fridges and more! Well beyond the basic BBQ stations and dining sets, they can also be equipped with the latest technology, such as next generation outdoor sound systems with in ground sub-woofers, mobile app-controlled LED lighting and ovens integrated with Wi-Fi.
Pollinator Attracting Plants
Did you know that bees pollinate up to a 5km radius of their hive and that consuming honey from the bees that pollinate in your neighbourhood can provide you with a resistance to seasonal pollen allergies? Without bees, global fruit, vegetable, and nut crops would yield about half of their current amounts while some food species (such as almonds) would not exist at all. There couldn't be a more perfect time to do your part for the ecosystem and incorporate plantings into your landscape design that will attract pollinators! Bees are most attracted to purple, yellow and blue flowers. Lavender is a lovely choice, both for pollinators and property owners, alike. At Groupe Paramount, we are taking it a step further by adding a bee hive to the mix. The lovely people at Alveole have supplied us with our hive and are teaching us the ins and outs of maintaining it. We'll soon be adding 10,000 new employees to our team!