Part 1 of our 2 part series looking at this Baie D'Urfé project; we designed 4 raised planter boxes to add an extra element to the backyard.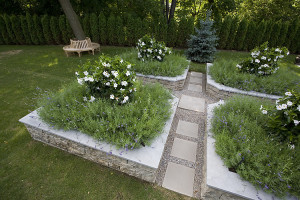 With a large pool on one end of the property, we created a Gentleman's Garden as a mini-oasis a short walk away on the other end of the property. These 4 raised planters form a square with pea gravel and stone walkways in between. They are planted with lavender and mandevilla plants, the height of these planters allows a casual stroller walking through the gardens to enjoy the beauty and sweet aromas up close.  Gentleman's Gardens were designed for easy maintenance; it's gardening without the strain of bending. This type of garden can be adapted to any personal comfort level, and for those who work extensively on their gardens, this could help tremendously. Another great feature is that it can also be used as a vegetable garden.
Something so peaceful and beautiful deserves to be seen at the perfect moment – at this home, we positioned the gardens to be perfectly symmetrical with the master bedroom bay window, making it the first thing the homeowners see when they wake up. Overall, when put in the right place, raised planters are gorgeous to look at and easy to maintain. They are a great addition to any backyard!