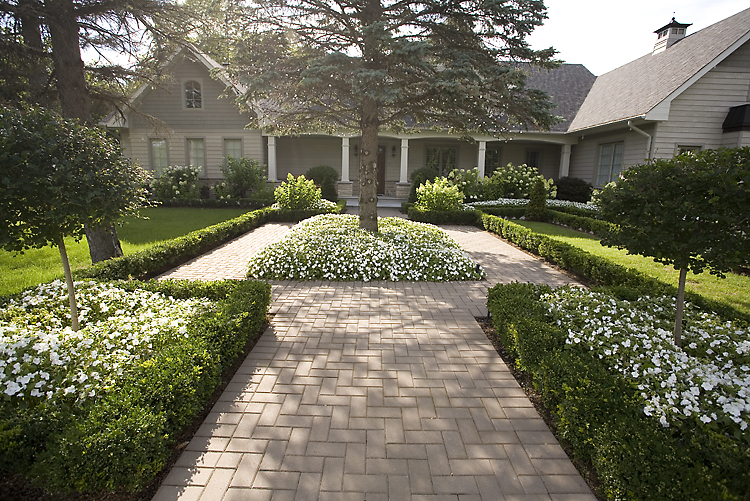 When it comes to boosting a home's curb appeal, nothing is more important than a clean façade and manicured landscaping. Not only do these features go a long way in improving a home's appearance, they also allude to how the rest of the home is maintained. If your property is in need of a refresh, our experts can help spruce up your home's exterior, regardless of your budget. Here are the top five ways to improve your home's curb appeal:
1. The driveway and walkway:
With a huge range of designs, styles, and materials available, we can work with any taste to design and create the drive and walkway you've always wanted. This season we expect clean lines and modern styles will continue to dominate trends. Popular looks include the "Sleek" from Techo Bloc, which allows very large rectangles to be used on driveways; the "Quadra" from Rhinox, which are beautiful 32 x 32 inch square slabs great for backyard patios or large stepping stones; the "Beacon Hill" from Rocval, which are large slabs that offer an ultra-smooth texture in vibrant colour options; and lastly, the "Cite" slabs by Permacon, which offer a new gorgeous light beige option.
2. Lawn:
A well maintained lawn is appealing to anyone. Full, lush grass not only smells wonderful, it also adds a polished look to any property, and is one of the most affordable ways to freshen the appearance of any home.
3. Gardens and greenery:
Whether you're interested in hedges and shrubs, or want to go all out with trimmed trees, flowers, and specialty plants, we've got you covered. This season we expect ornamental grasses, perennials over annuals, layered planting designs, and low Maintenance gardens to be among the most popular planting trends.
4. Basic accoutrements:
Aside from planting features, things like a fresh coat of paint on your door, updated outdoor lighting, a new mailbox, and clean siding go a long way in improving a home's curb appeal and the overall look of any property.
5. Bonus features:
Ever thought of adding some design touches to your front yard? Things like architectural walls, stone planter boxes, and front patio seating area can add flare and make your home truly stand out.
Planning on updating your home's exterior this season? Now's the best time to start planning your project! Contact us and we'll guide you through the process.