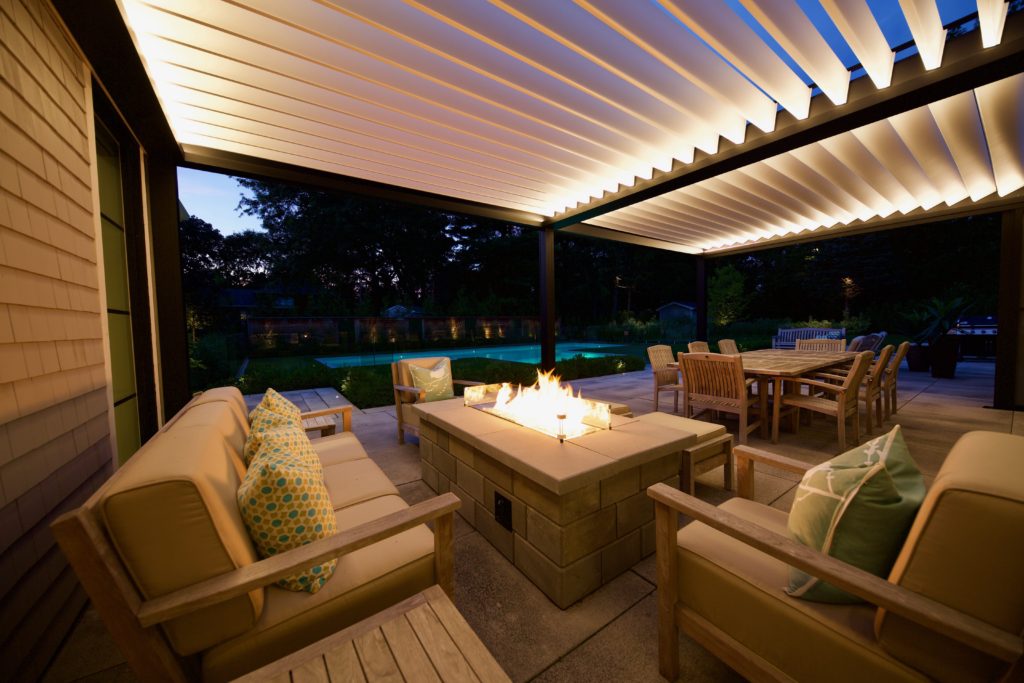 If you're big into outdoor living, you likely already know that your backyard can continue to be an oasis well into the fall. Here, we explore the top five ways to make the most of your outdoor space as we head into the cooler months of the year.
Fall gardens: While we tend to think of gardening as a spring and summer activity, the fall is a wonderful time to liven up your gardens with warm hues and hearty, seasonal plants. Ornamental grasses and shrubs can be used to create clean modern lines, while flowering plants like asters, chrysanthemums, and goldenrods can add a pop of colour and bloom for several weeks. Bonus: you can add some festive décor by including pumpkins and other gourds.
Fire tables: Adding a fire feature, whether it's a pit, ring, or table, to your backyard is always a great idea! Not only do fire tables add a gorgeous visual component to any outdoor sitting area, they also serve a practical purpose by providing the source of warmth that's often needed to enjoy your outdoor space on chilly evenings. Curling up by the fire on a cool night with a cup of tea or a glass of wine is often the best way to unwind at the end of the day.
Al fresco dining areas: Let's face it, eating outdoors is one of the best parts of summer, and a favourite pastime for so many families! But why stop there? Don't let a little cool air spoil your fun. The number of heating and lighting options available for outdoor dining spaces today are as vast as they are varied. The best part? Most of them won't break your budget.
Cozy outdoor living rooms: Fall is a great time to invest in some new outdoor furniture! By purchasing three-season pieces and sets, you can set up an outdoor living room complete with comfortable couches and chairs, as well as practical dining options. Doing so can help you make the most of your patio set up well into the fall. You can also add a cozy and visually appealing element by having a basket of blankets on hand!
Soaking in the cooler weather: Did you know? Most outdoor spas can be used year-round, and so we always like to consider accessibility when designing a back yard landscape that includes one. Placing the spa as close as possible to the backdoor, without compromising the orientation of the rest of the patio area, means it's easy to warm up with a soak on chilly days, and even in the snow.