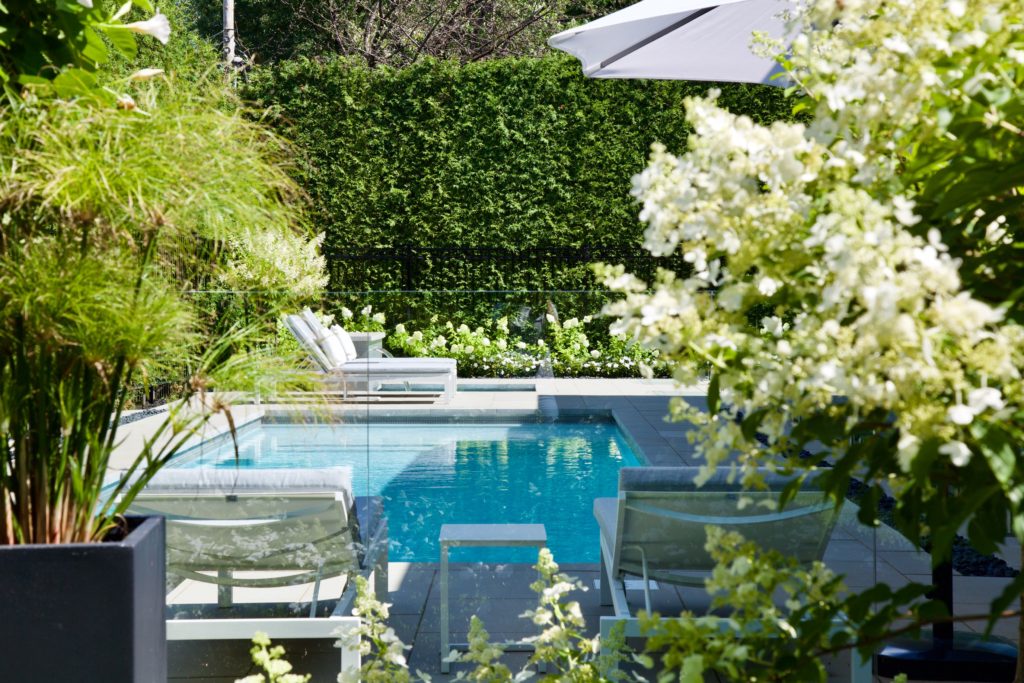 With the summer finally upon us, our teams are hard at work bringing our clients' dream backyards to life. From pools, spas and water features to outdoor kitchens, al fresco dining and dens, clients are looking for spaces that are not only enjoyable but also extend their season, allowing them to maximize their outdoor time and make the most of their properties. Here, our veteran landscape architect Ellen Rasnikoff explores the most requested features and designs of the year, and offers her insight into the design process.
Pools and spas
Quebecers have always loved their pools, in fact there are more pools in this province than any other across Canada! Given the fact that we've all been spending so much time at home over the last year, it's no surprise that pools and spas are even more in demand this year. The good news is that thanks to the latest design technology and materials, we can create a pool for just about any space, featuring classic rectangles or customized shapes, entry steps, sun ledges and beaches, lighting, smart controls, and much more. Small backyard? Urban area? No problem. We can optimally design a custom pool for your home, and one that will suit your needs whether you're looking for a dipping pool, lap-pool, social pool, or a luxurious spa to help unwind at the end of the day.
Outdoor cooking and dining
Clients are really seeing their backyards as an extension of their home's interior, and so naturally they want to cook and eat there the same way they would inside. Outdoor kitchens today are incredibly versatile and can include several cooking surfaces as well as fun additions such as pizza ovens, wine storage, and more. These kitchens are appropriately constructed for our climate, meaning they're incredibly durable, providing the homeowners years of enjoyment without much required maintenance. As for outdoor dining , we are seeing incredible developments being made for covered spaces. For instance, many brands of pergolas now feature integrated lighting, remote controlled screens, and more elements to maximize clients' comfort regardless of weather, and annoying mosquitoes.
Design features
Elements like fire tables, wood accents, green walls, and ornamental gardens have always been popular but now we're really seeing them integrated into the comprehensive design of a space. These features add details that are invaluable to the overall look and feel of the yard. They add beauty, functionality, and really contribute to the comprehensive design of a space, creating layers ,flow, privacy and views, and a unique look to compliment the property's architecture, topography and the client's lifestyle.
The design process
A home project designed by a Landscape Architect ensures that the client's needs are being met, the environment is being respected, the municipality receives an accredited, stamped design, and there are years of professional education and experience behind the planning process for the client's benefit.
A Landscape Architect creates a unique design that considers the client's lifestyle, who will be using the space (people and pets), and which features are desired. There are so many factors that need to be taken into account when creating a design, such as the condition of the property, existing features to enhance or hide, interior/exterior transitions, municipal by-laws, budget, and more.
The goal of a Landscape Architect's work is to make this process simple and enjoyable for clients, and ultimately deliver a finished product that they will love and use for years, adding value to their homes, and their lives.