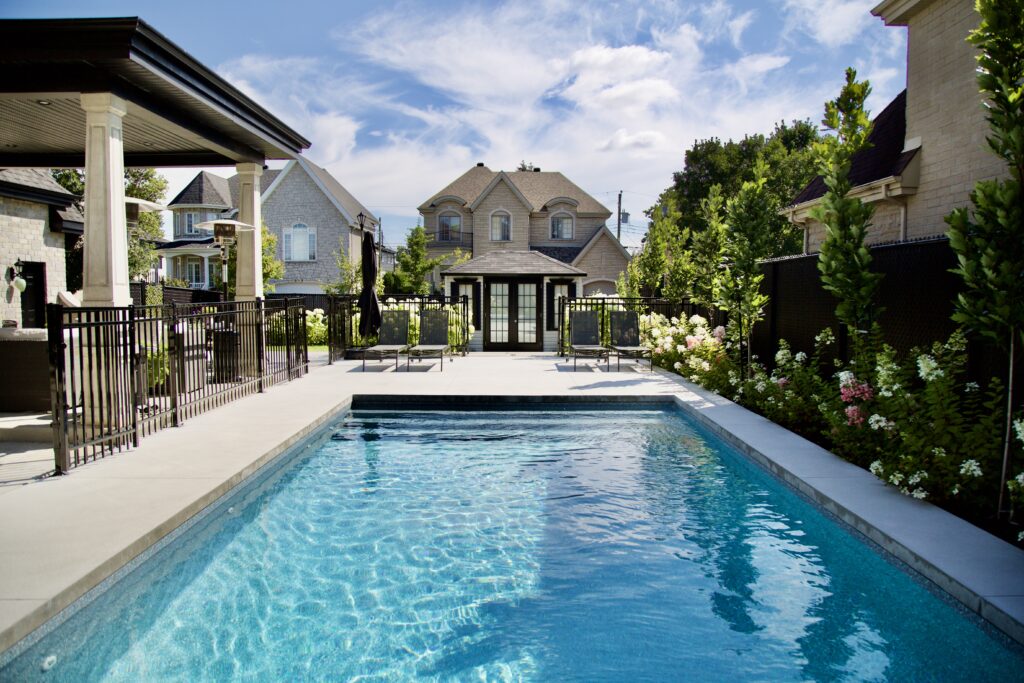 With the cold weather upon us, now is a great time of year for homeowners to think about any landscaping upgrades they'd like done to their homes next year. Whether you're looking to have a complete turnkey backyard renovation, or simply want to give your outdoor space a facelift and add some fun features, next year's trends offer something for everyone.
As in the past, the most in demand addition for backyard renovations continues to be a pool.
"Pool envy is real, especially in Quebec where we have a deeply engrained pool culture," said Lee Gregory, project manager at Group Paramount, a family-owned landscape design specialty company. "Pool projects are getting larger, more detailed and more refined in terms of material selections. Our ability to customize pool designs and builds now for just about any space – big or small – means we're busier than ever with pool projects."
People are often adding other elements to their backyards as well, both as part of a pool project or on their own. Things like cozy lounge areas, outdoor living spaces, firepits, and privacy planting are very much in demand to allow homeowners to maximize their comfort and enjoyment.
"Homeowners are really using their backyards as an extension of their home's interior," Gregory said. "There is an enormous appetite to invest in the home these days."
Rising home prices and increased hours being spent at home are two factors that are contributing to this growing demand for home renovations and additions.
"Home values increasing give clients the confidence and the equity to invest a larger budget in their backyards," Gregory said. "Also, more people are spending more time in their homes – working from home a few days per week, or forever, and so the home has definitely become even more the center of the family."
This trend is being observed among homeowners of all ages, in fact.
"Over the past year clients of all ages have reached out for pools," Gregory said. "Not only homeowners with young kids, who are often thought of as the typical client, but also empty nesters, work-from-home professionals, and grandparents who wish to have their grandkids over all summer."
There's no question that the pandemic has put outdoor space at the top of the "must-haves" list for most buyers. Consider for example the work from home model, which for many has been adopted permanently. It's quite common now for people to take their laptops outside to work and as a result they want a space that's comfortable, appealing, and private. Having that option and that flexibility is important to many homeowners and buyers on the market today.
If you're considering a project for your home, one key thing to take note of is timing. Due to the volume of projects and supply chain issues created by the pandemic, the lead time for landscaping projects is longer than in the past.
"Start planning early because nothing can be accomplished quickly anymore," Gregory said. "From architects being over loaded to clients taking more time, in the end the project will turn out better when it has the breathing time to evolve; so don't rush decisions and start planning sooner rather than later."
Moreover, during the winter months landscape architects and project managers do not have any active worksites to manage so they are dedicating all of their time to planning.
"We are typically planning approximately one year in advance for pools at this point," Gregory said. "So now is definitely the best time to get a leg up on the planning."