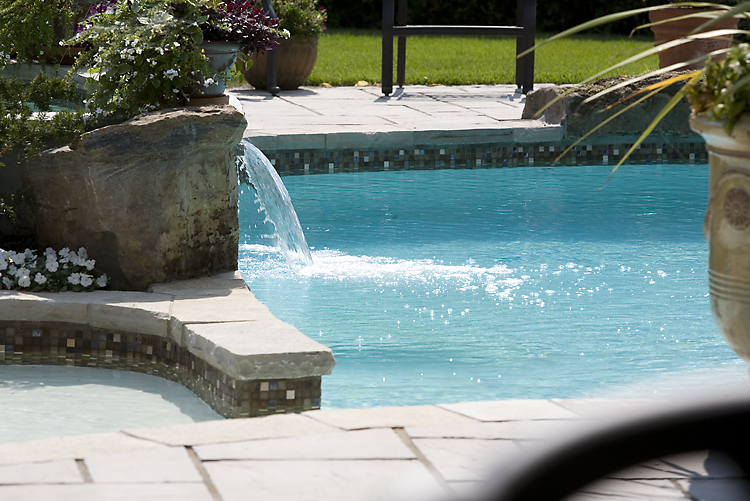 With a seemingly endless number of possibilities available to create your custom outdoor living space, homeowners often need some guidance on how to choose features in line with their goals for the project, and how they plan to use their outdoor space. The key, they say, is investing in what's right for you and your family.
Here are the top five ways to create your own outdoor luxury retreat:
1. Outdoor kitchens:
Do you love to entertain? An outdoor kitchen is a wonderful addition for any homeowners who often host friends and family for meals and parties. By creating an outdoor space complete with a sink, BBQ, smoker, pizza oven, stovetop, wood-burning oven, fridge, bar area, full size dining table, and more, your parties will take on a whole new life. Moreover, thanks to strategically positioned heaters, you'll be able to use your outdoor kitchen and dining area well into the cooler months. If your home is already party-central for friends and family, adding an outdoor kitchen might be the perfect way to kick off the season this year.
2. Pools and spas:
If you love swimming, lounging, and soaking, then a pool and spa feature is well worth exploring. What's more, if you have kids, the addition of a pool can mean summers of endless fun for years to come. Quebec actually leads the way nation-wide in this category; each year 70 percent of all new in-ground pools in Canada are installed in Quebec! If you love the water and are looking to revamp your outdoor space, adding a pool and/or spa feature to your backyard is a no-brainer.
3. Gardens:
Whether you enjoy gardening yourself, or simply want to be surrounded by lush greenery and flowers, adding a garden – or garden complex – to your property can help to create a calming, beautiful space. In addition, a well-manicured garden can go a long way in boosting your home's curb appeal. January through March is a great time to start planning for the upcoming growing season, so if greenery is a priority for you, we can help create a custom garden system for your entire property.
4. Uni-stone walkways, steps, and patios:
With a huge range of available materials, textures, and colours to choose from, adding a uni-stone walkway and patio to your backyard goes a long way in creating a polished, up-to-date look. From natural ledgerock and hammered limestone – a favourite in Quebec – to manmade Techo-Bloc, Permacon, Rocvale or Rhinox options, the sky is the limit when it comes to achieving the custom design you're seeking. If you're looking to tweak your yard as opposed to doing a total overhaul, updating the stone is a great way to invest and instantly boost the appeal and functionality of your space.
5. Bonus features:
Whether you'd like a resort-like lounging area, a built-in custom stone and glass fireplace, or specialized lighting throughout your whole yard, our experts can help bring your inspirations to life, and even offer ideas you may never have thought possible.