Newly released, a 30 second video of our work. Longer version to be released soon!
With the help of Grou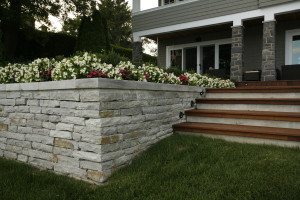 pe Paramount's phenomenal landscape architect, Ellen, we were able to design a plan filled with beautiful design elements, bringing out the gorgeous landscape of this Beaconsfield waterfront home. To correct the property's slope, we added retaining walls made with cut limestone using a drystack process, where stones are placed without any binding cement. The retaining wall that corrected the slope, allowed us to put in a pool for the clients. A great compliment to the wall's natural look are the Brazilian Walnut wooden stairs, this wood is also called Ipé – it is known to be one of the most durable woods on earth! Th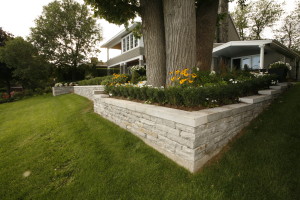 e brown wood and the light stone are a perfect contrast to one another and emphasize the greens of the surrounding landscape. At night, the wall lights up with integrated eyelet fixtures that shine down on the stairs and give the property ambient lighting.
Want to see more projects? Head over to our main site.